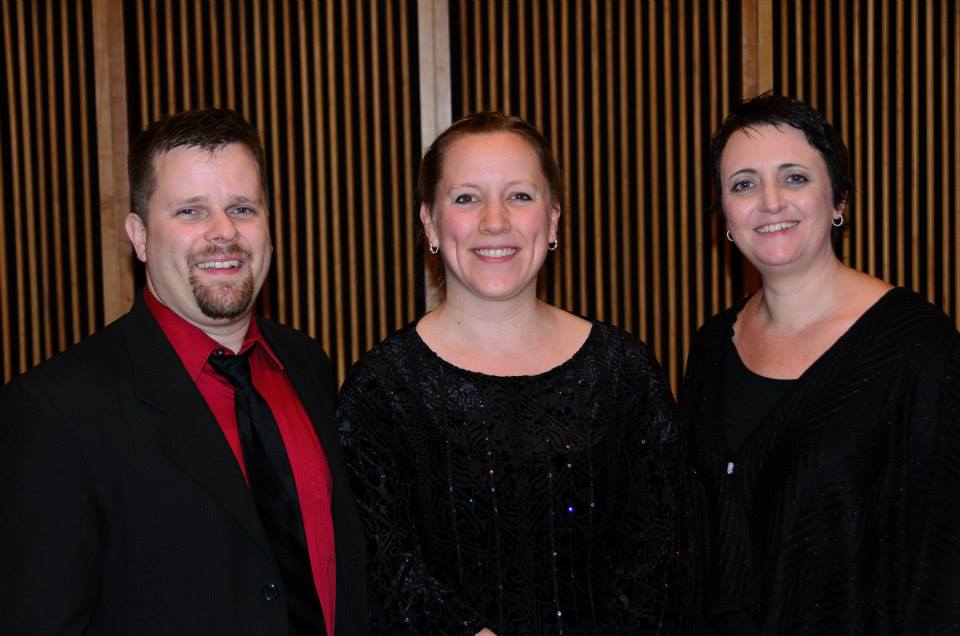 Triforia Winds is a professional woodwind trio whose focus includes advancing the performance of woodwind chamber music, expansion of the repertoire for woodwind trio, and educational outreach. The trio is comprised of Ms. Jocelyn Goranson (flute), Dr. Mary Alice Druhan (clarinet), and Dr. Todd Goranson (saxophone and bassoon).
Founded in 2005 as a faculty ensemble for Texas A&M University-Commerce, Triforia Winds served concurrently as the woodwind trio of the Dallas Wind Symphony for social performances, educational concerts, and live radio broadcasts engagements on WRR 101.1 FM (Dallas/Ft. Worth). They have performed throughout Texas and served as ambassadors for Mount Vernon Music, a 501(c)(3) charitable organization whose mission is to provide outstanding performances of live music to communities primarily in northeast Texas.
Triforia Winds has performed extensively at international venues, presenting world premiere performances in the United States, Puerto Rico and the United Kingdom as well as Asian and North American premieres of substantive works for woodwind trio. Conference performances include the International Clarinet Association's ClarinetFest in 2012 (University of Nebraska – Lincoln), the International Double Reed Society Conferences in 2012 (University of Miami - Ohio), 2009 (Birmingham Conservatory in Birmingham, England), and 2008 (Brigham Young University), the Texas Music Educators Association 2010 Conference, World Saxophone Congress XV in 2009 (Mahidol University, Bangkok, Thailand), and the OU Clarinet Symposium in 2006 (University of Oklahoma).
Triforia Winds has held guest residencies and presented concerts and master classes for many music schools, including the Puerto Rico Conservatory of Music, Gordon College (MA), Texas A&M University-Commerce, Oklahoma State University, and Messiah College (PA). Festival performances/master classes include FlootFire (2008 & 2009), Clarinet Solutions (2008 & 2009), and the Dallas Wind Symphony Summer Music Institute.
Championing new works for the instrumentation, Triforia Winds has performed World, North American and/or Asian premieres of works by numerous recognized composers, including Ted Hansen, Rodolfo Ledesma, David Gillingham, Catherine McMichael, Biljana Bojinovska-Bojivic, and Eduardo Morales-Caso.
Jocelyn Goranson (Instructor of Flute, Messiah College) is a Yamaha Performing Artist. Mary Alice Druhan (Associate Professor of Clarinet, Texas A&M University-Commerce) is a Buffet-Group, USA Artist/Clinician. Todd Goranson (Associate Professor of Saxophone & Bassoon, Messiah College) is an endorsing artist for Yanagisawa Saxophones (Conn-Selmer, Inc.) and Hercules Stands, and is a Vandoren Paris Regional Artist.
Triforia Winds is available for guest residencies and clinics, and corporate sponsorship is frequently available. Please contact Todd Goranson at tgoranson@messiah.edu for more info and booking. Feel free to visit our website at http://www.triforiawinds.com or "Like" us on Facebook at https://www.facebook.com/TriforiaWinds
n,